Alumni Club
It doesn't matter if you graduated from university this year or 15 years ago, you are still ours and we care about your destiny. The alumni club is here mainly so that we can stay in touch and know where you have come, but so that you too can know where we are moving. It doesn't end with graduation!
Why should you become a member of the alumni club?
Because you belong to us! But if that's not enough, we have also prepared several benefits that registration will bring you:
a graduate ID card,
invitations to the specialist as well as social events organized by TBU,
regular news about novelties and life at TBU,
a discount of 10 % on printing services in Tomas Bata University Press,
a discount of 10 % on hotel accommodation in the TBU Halls of Residence,
FREE 3-year membership of TBU Library,
TBU promotional items offered at student prices,
other surprises and new benefits that are planned at the moment.
Membership in the Alumni Club is free and is open to all graduates of bachelor's, master's and doctoral study programs at TBU. You can print the alumni card yourself directly from IS / STAG, immediately after successful registration in the TBU Alumni Club. If you want a portable card, it is possible to have it made through the TBU Library for a handling fee of CZK 200.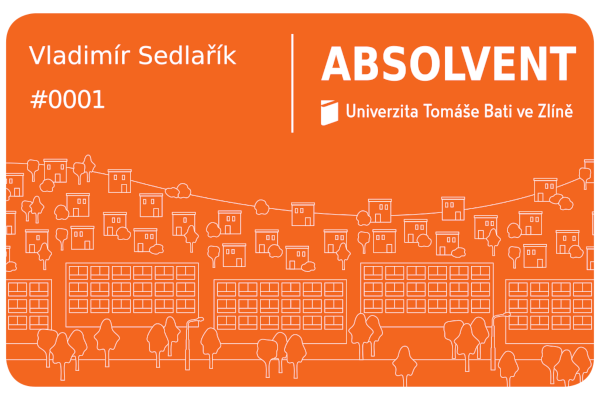 How to register?
After filling in the birth number and the initials without diacritics (valid at the time of the study), these data will be verified by STAG and you will be redirected to the registration form.
Graduates from June 2005 will be verified in our information system and most of the data will be filled in automatically. For graduates before June 2005, it is necessary to fill in the form manually and the registration will then be verified by an authorized person (graduate administrator).
The login details are the email and password entered in the registration form. The password must contain 6 or more characters. To complete the registration, select the Consent to personal data processing checkbox at the end of the form. You will then receive a confirmation email to log in to the alumni club network and you can already log in.
If the birth number and initials entered in the first step of the registration were not verified automatically, the user will be able to log in only after verification by the alumni administrator.
Already a member of the alumni club?
Already registered graduates can log in to the portal via the following link:
I AM IN THE CLUB OF TBU GRADUATES
In the My Data section, your profile will be displayed, where you set the visibility of the data.
After logging in, you will gain access to the alumni database. This section is accessible only to registered graduates. Here it is possible to search for registered graduates in our club.